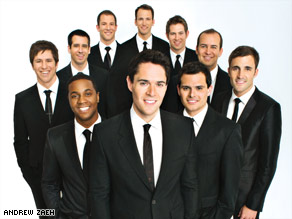 Adolescent international singing sensations,
Charice Pempengco
and
Nikki Yanofsky
, have no doubt had their careers boosted by YouTube. Though they've been compared to celebrities like Whitney Houston, Mariah Carey and Etta James, the counts on their video views don't even approach those of male a cappella group,
Straight No Chaser
.
The group from Indiana University posted a
ten-year-old video
of their rendition of "The 12 Days of Christmas" on YouTube, which has received more than 9.7 million views in just over two and a half years. Amongst the viewers was chairman and chief executive of Atlantic Records, Craig Kallman, who arranged a five album record deal with the group.
CNN
interviewed
two of the guys this weekend. About their careers outside of singing as a hobby, member, Jerome Collins said: "I was doing a festival of 'The Lion King,' and I was Simba. We have one guy selling medical devices, another guy a reporter for ABC, one guy working at a bank, another guy a teacher. ... You name it, we have it."
My college a cappella group,
Talisman
, was invited to sing for George Lucas and toured South Africa, but we never went viral. I doubt Page One PR's
Christmas caroling video
will, either. Talk about a big break for Straight No Chaser – the whole story is yet another iteration of the American dream, really. You can learn more about the group
here
.